Drums Personal Checks
Order Drums checks and other tasty musical bank check designs online in a variety of styles.
Matching labels and covers are also available to compliment most of these Drums personal check designs.
---
The Beat Goes On Checks
Drummer Checks - The beat never stops so long as you're holding onto these drum set personal checks! Four gorgeous kits to inspire you every day, these rocking drummer personal checks never miss a beat! Celebrate your instrument! ...

---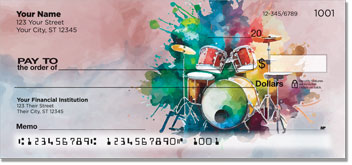 Percussion Checks
...

---
Drums Up Close
If you like to make loud music and dream of playing in a band why not give it a try with these Drums Personal Checks that will make it easy on your ears? These set of drums comes in four scenes that displays everything needed to play the drums: a set of drums sits waiting patiently for its owner to start a song, some sheet music rests on a drum waiting for you to begin, a pair of drum sticks are ready for action and the cymbals are ready to really make you sit up and take notice! These Drums Personal Checks will make it easy to start your career but first you need to write a few checks....

---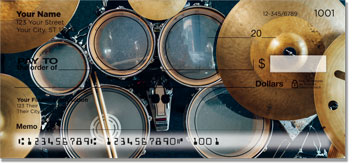 Drum Checks
...

---