Guitar Personal Checks
Order Guitar checks and other tasty musical bank check designs online in a variety of styles.
Matching labels and covers are also available to compliment most of these Guitar personal check designs.
---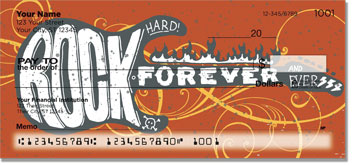 Scroll Guitar Checks
...

---
Rockin Personal Checks
Rockin Personal Checks - Rock n' Roll your checkbook with these fun loving checks. They're sure to remind you and everyone they come in contact with to enjoy the music and let loose! ...

---
Rock Out Personal Checks
Rock Out Personal Checks - Fun frogs are making music in this whimsical four check series. Each colorful check features a saying:Jammin'Rockin'Jam OutRock OutPut a little humor into your wallet with these fun guitar playing frog checks!...

---
Psychedelic Guitar Pics Personal Checks
Guitar Pick Checks - Rock on! Sick of losing your picks? These funky guitar pick personal checks mean you'll never be without one again! Spread the love with these four awesome pick designs, and celebrate your passion!...

---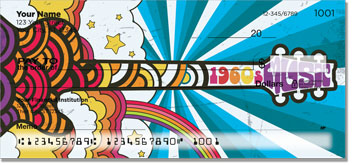 Psychedelic Guitar Checks
...

---
Played Out Personal Checks
Country Music Personal Checks - It's about time to do a little line dancing or maybe just strum on this guitar! Either way, there can't be any better music than country for having a good time or even relaxing by yourself. These country designs really show the true spirit of country with a weathered guitar and cowboy hat. Yeehaw! ...

---
Pickin And Grinnin Personal Checks
Pickin And Grinnin Personal Checks - Listen to the beautiful sound of a guitar and be reminded how sweet music is every time you open up your checkbook! Take a little bit of this pickin' and grinnin' with you everywhere you go!...

---
Humble Beginnings Personal Checks
Humble Beginnings Personal Checks - This rustic check says it is the simple things that matter and it doesn't matter where you start. Enjoy the moment and what you have with these Humble Beginnings Personal check designs. And remember to enjoy the music along the way!...

---
Guitars Up Close
These Guitars Personal Checks make a lovely tribute to the various types of guitars that can be found and that produce sounds like no other. No matter what kind of music you like a guitar is usually part of the ensemble that makes the sounds. These four unique guitars offer a look at very different ones that come in all shapes and sizes and colors and are used by musicians all over the world. Jazz, classical, rock and roll or country western all find that these instruments will make the kind of music they like. If you are a musician you will enjoy these distinctive Guitars Personal Checks and others will enjoy them with you....

---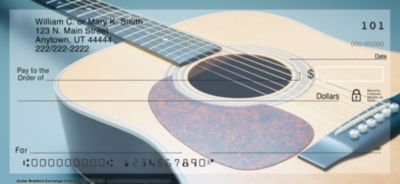 Guitar Lovers 4 Images
Guitar Checks Celebrate Your Love for This Stringed Favorite - Who knew that six strings could speak to the soul so well? Whether you play or just love the sweet sounds of this favorite instrument, carry your appreciation wherever you go with these guitar music checks, available from Bradford Exchange Checks. Four unique designs capture the beauty of the instrument with an image of an acoustic guitar, electric guitar, a close-up of an acoustic with sheet music and a close-up of the neck with a blue guitar pick.These guitar personal checks are available from Bradford Exchange Checks, and are expertly re-created with premium-quality check printing. These guitar music personal checks rock, so what are you waiting for? Order now! Pricing shown is for 2 boxes of Singles....

---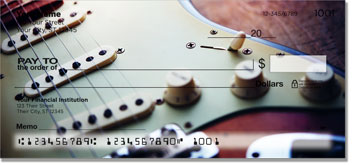 Guitar Checks
...

---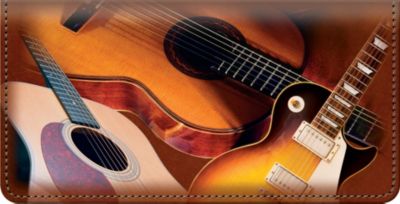 Guitar Checkbook Cover
Guitar Checkbook Cover Rocks in Genuine Leather! - Whether it's with guitar straps, jackets or gig bags, guitars and leather seem to go hand-in-hand. Now, these two elements combine like never before with this genuine leather guitar checkbook cover! Custom designed to match our guitar personal check designs, this guitar music checkbook cover features striking imagery of this favorite stringed instrument to perfectly showcase that the beauty of the guitar is not only from the sound it makes.This guitar checkbook cover is handcrafted of genuine, full-grain leather. High-quality features include premium nylon thread stitching, fabric lining, a clear duplicate check divider, slip-in personal check pocket, and a second pocket to hold cash or receipts.Don't wait celebrate the guitar with a rockin' tribute. Order this guitar checkbook cover from Bradford Exchange Checks now!...

---
Guitar Art Personal Checks
Guitar Personal Checks - Music is life. Express your passion with these colorful musical instrument checks....

---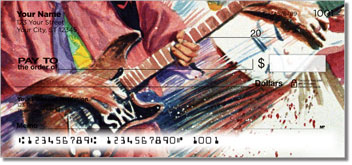 Guitar Art 2 Checks
...

---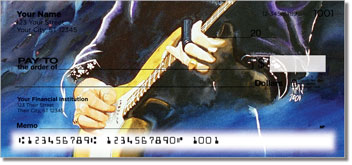 Guitar Art 1 Checks
...

---
For Guitar Lovers Checks
Guitar Checks - When you can't be playing, we know you wish you were. Thankfully with these acoustic guitar personal checks, your beloved six stringed instrument is never out of reach. Next time you miss your instrument, don't fret, just reach for your checkbook!...

---
Electric Guitar Checks
...

---
Classic To Rock Guitars Personal Checks
Guitar Personal Checks - Created especially for music lovers, these funky guitar checks are a perfect way to showcase your love for music. Circles, dots, florals, and flames all accent the guitars on this creative four check series. Have fun with these musical guitar checks - no strings attached!...

---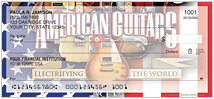 Buck Wear Guitars Checks
ROCK ON with these music inspired checks from Buck Wear. Each check design features images of some of America's favorite guitar shapes. Buck Wear Guitars checks are perfect for any music lover. Matching address labels and a leather checkbook cover also available. Order your Buck Wear Guitars personal checks today! Buck Wear. Courtesy of MHS Licensing. Product Description Singles Duplicates Checks per pad 25 20 Pads per box 5 5 Checks per box 125 100 What's Included FREE 20 Deposit Tickets and1 Transaction Register...

---