Jazz Personal Checks
Order Jazz checks and other tasty musical bank check designs online in a variety of styles.
Matching labels and covers are also available to compliment most of these Jazz personal check designs.
---
The Big Easy Personal Checks
The Big Easy New Orleans Personal Checks - Take a trip to The Big Easy with these festive personal checks! From the mystical to the musical, to Mardi Gras and masks, the vibrant cartoon illustrations capture the best of what New Orleans has to offer. Each design includes French-inspired symbols as a nod to the city's French and Creole history. Celebrate one of America's oldest and most unique cities with this carnivalesque collection...

---
Smooth Jazz 4 Scenes
Jazz Checks Capture the Spirit of a Musical Movement with Monica Stewart Art - Experience the excitement of jazz every time you use these stunning Monica Stewart musician checks from Bradford Exchange Checks. Showcasing re-creations of artist Monica Stewart's thrilling work, four colorful designs feature different images of African-American musicians to capture the essence of cool jazz culture.Plus, you'll find these musician personal checks are just as practical as they are distinctive. Brought to you exclusively by Bradford Exchange Checks, they're expertly re-created with premium-quality check printing. Don't miss out on musical art. Get your Smooth Jazz personal checks as soon as possible! Order now! Pricing shown is for 2 boxes of Singles....

---
Nights Of Jazz Personal Checks
Nights Of Jazz Personal Checks - Artsy, and Uptown, these Jazz inspired personal checks are perfect for the wallet of anyone who loves the sound of Jazz! So what are you waiting for? Jazz up your wallet with these unusal Nights of Jazz Personal Checks!...

---
Jazzy Personal Checks
Jazzy Personal Checks - This jazzy four series set of personal bank checks will really toot your horn! These personal bank checks depicting saxophone players wooing us with soothing solos will strike a note with any music lover, and their stylish blue and gold backgrounds make these a must have. ...

---
Jazz Freestyle Personal Checks
Jazz Checks - Feel the groove and get into these funky freestyle prints. Toot your own horn and boogie down. Fun colors and a jazzy motif will keep your pocketbook fresh....

---
Jazz Bands Checks
Jazz Combo Checks - Jazz up your daily life with these musician personal checks! Show 'em what you're 4/4 when you bust out these stylishly designed checks made specifically for the swinging instrumentalist! ...

---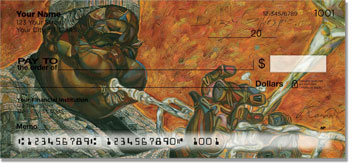 Jazz Age Checks
...

---
Fat Tuesday Personal Checks
Fat Tuesday Mardi Gras Personal Checks - More than anything else, the city of New Orleans is known for Mardi Gras. French for "Fat Tuesday," the holiday is full of music, food, dance and costume, all prior to fasting for the Lent. This colorful design highlights some of the traditions of this carnival celebration that take place on Bourbon Street. Join the party with these personal checks...

---