Christian Symbols Checks
Order Christian Symbols and other Christian theme personal checks online in a variety of designer styles.
---
Symbols of Faith Personal Checks
These prominent symbols embody your faith - bringing you peace and strengthening your spiritual connection....

---
Symbols Of Christian Faith Checks
Christian Symbols Checks - Celebrate the beauty and glory of God with these heart warming Christian personal checks. Soft flowers and subtly spoken undertones of faith make this one of our most popular Christian check series. Beautifully captured, inspiring imagery to spread joy and love....

---
Symbolic Fish Personal Checks
Symbolic Fish Personal Checks - These beautiful designs feature the Ichthys, a special symbol consisting of two intersecting arcs. If you are a Christian, you know what this symbolic fish means, and you can share your faith every time you open your checkbook or write out a personal Symbolic Fish Personal Check!...

---
Stairway to Heaven Checks
Show your spirituality with Stairway to Heaven Personal Checks. These checks feature rotating images of stairways to the heavens and are a fun and playful way to show off your faith. Stairway to Heaven Personal Checks are available in single and duplicate check format. Matching address labels and a coordinating checkbook cover are also available....

---
Serenity Checks
Let peace and light flow into you each time you use Serenity Personal Checks. These pictures embody symbols and inspirations of faith. This includes a cathedral entrance, a dove in flight, aglow in the sun, along with some spiritual scenes of the natural world. Serenity Personal Checks are available in single and duplicate check format. Matching address labels and a coordinating checkbook cover are also available....

---
Peace Dove
Peace Personal Checks are beautiful checks that bring about a serene sense when you gaze upon the artwork of these checks. On the front of the check is the outline of a dove in front of double windows. The dove is the symbol of peace. You are reminded every single day or every time you use your checks of the peace and love that they represent.The checks come in thee colors - purple, yellow, and tan - and they are not so loud that they are startling. Actually, the colors are very peaceful, reflecting the message that is relayed through peace checks....

---
Joy Personal Checks
Joy Personal Checks - Embrace Joy in your life with these classic and joyful personal checks. With a peaceful dove and roses and gold, these designs really encompass Joy. Share a little bit of Joy every time you write out a check!...

---
Joy
Joy Personal Checks is a series of checks that focuses on joy. The image on each check is that of angels singing within a church. You see the angels standing in front of the church windows making a joyous noise. Each check comes in different colors. The main colors are green, purple, and a light green. IN the background the checks are accented with colors such as blue and yellow.Not only are the checks a symbol of joy, but they are also a lot of fun. The colors bring a smile and so does the affordable price for these high quality checks. You'll be happy every time you have to write a check....

---
Helping Loving Hands Personal Checks
Helping Loving Hands Personal Checks - This beautiful check shows that no matter what you're doing, there are always helping loving hands and nobody is in this alone. This world is made-up full of wonderful and helping people, and when we all come together amazing things happen. Let this check be a symbol of the love and sense of community we all share!...

---
Find Happiness Personal Checks
Find Happiness Personal Checks - Praise, rejoice, forgive and serve, all four are basic tenets of the Christian religion, and all four are wisdoms featured on these personal bank checks. With each featuring an angel in gold strumming on a guitar with two angels in blue trumpeting an angelic accompaniment, these personal bank checks will be at home in any Christian's checkbook. ...

---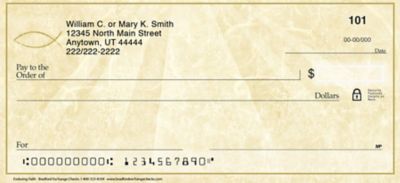 Enduring Faith
Jesus Ichthus Fish Symbol Personal Checks Proclaim Your Enduring Faith in God's Love - The earliest Christians used the fish symbol known as the Ichthus design as a password of their enduring faith in Jesus Christ during times of Roman persecution. Today these Enduring Faith Ichthus design personal checks featuring the Jesus fish symbol sends that same personal statement of abiding faith with every check you write - humbly proclaiming to everyone who sees it that you are a true Christian in your heart, body and soul.The Enduring Faith Jesus fish symbol personal checks are available exclusively from Bradford Exchange Checks, and are expertly re-created with premium-quality check printing. Don't wait another minute to pass a message of your faith to the world! Order your Enduring Faith personal check designs now! Pricing shown is for 2 boxes of Singles....

---
Dove & Cross Personal Checks
The Dove and Cross Checks display two beloved symbols of Christianity....

---
Dawning Of Peace Personal Checks
Dawning Of Peace Personal Checks - The dove has long been a religious symbol for peace, combined with the cross, these powerful images create a strong message for peace around the world. Artistically created in purples and burnt oranges, the power in this message can't be ignored. Do your part to spread peace and love around the world with these inspiring checks....

---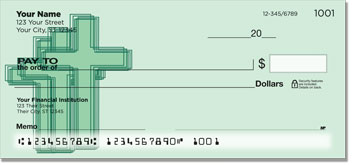 Cross Symbol Checks
...

---
Colorful Christian Symbols Personal Checks
Colorful Christian Symbols Personal Checks - This four series set of personal bank checks featuers a number of religious symbols of the Catholic faith. Each adorned by a bible, they also feature images of the cross, and the symbolic chalice of wine and wafer of bread, representing the body and blood of Christ. Fill your checkbook with these lasting symbols of faith. ...

---
Christian Symbols Personal Checks
Christian Symbols Checks-The photographer really knew how to capture the Christian Spirit in these four images. These personal checks are a great way to show your faith and keep even more of it with you....

---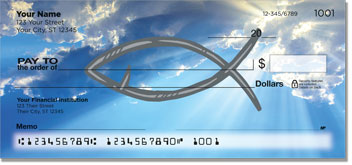 Christian Symbol Checks
...

---
Christian Fish Symbol Personal Checks
Christian Fish Personal Checks - The traditional Christian fish symbol is featured on each of the checks in this four check series. Clouds with heavenly light serves as the background for these inspirational checks. Spread the light with each checks you write!...

---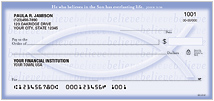 Believe Checks
Share your faith with the timeless Believe checks. Created by Christian designer Greg Malcolm these dynamic checks feature the cherished ithcus symbol with proclamations of faith peace grace and believe and a scripture border. Order these inspiring checks today!The Believe series was designed by Christian graphic artist Greg Malcolm whose award winning work has been recognized internationally. Product Description Singles Duplicates Checks per pad 25 20 Pads per box 5 5 Checks per box 125 100 What's Included FREE 20 Deposit Tickets and1 Transaction Register...

---