Catholic Checks
Order Catholic and other Christian theme personal checks online in a variety of designer styles.
---
The Virgin Mary 4 Images
Virgin Mary Christian Artistic Checks Honor the Religious Miracles of the Blessed Holy Mother - The miraculous appearances of the Holy Mother Mary to saints and ordinary people all over the world inspire our hearts with Christian faith in her loving presence in our lives. The places where she has appeared have become religious shrines of wondrous healing and spiritual well-being that draw millions of Christian pilgrims - Lourdes, Guadalupe, Fatima, Medjugorje and more. Now, Bradford Exchange Checks presents The Virgin Mary, religious Christian checks celebrating four of the most awe-inspiring apparitions of the Blessed Virgin Mary. Depicted with luminous, reverent grace by renowned Christian artist Hector Garrido, these artistic religious checks are a beautiful way to honor the Virgin Mary's presence here on earth. The Virgin Mary inspirational Christian checks are available only from Bradford Exchange Checks, and are expertly re-created with premium-quality check printing. Keep a beautiful reminder of the Blessed Virgin Mary's boundless compassion near at hand - order your religious The Virgin Mary Christian checks now! Pricing shown is for 2 boxes of Singles....

---
Symbols of Catholic Faith
Express your beliefs with Symbols of Catholic Faith Personal Checks, which feature images of the cross and the rosary....

---
Rosary Personal Checks
Let Us Pray Personal Checks - Tasteful borders of rosary beads set over backgrounds of gray, brown and white make these personal bank checks simple yet sure expressions off faith. Good Christian values can be found in the images adorning these personal bank checks, and good market values can be found in their prices. ...

---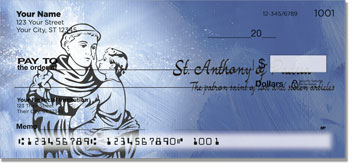 Christian Saint Checks
...

---
Catholic Symbols Of Faith Checks
Catholic Symbols of Faith Checks- Many Catholics carry their rosary with them, but here is even another way to show your faith. Four beautiful photographs adorn these personal checks with images of rosaries and flowers....

---
Catholic Faith Personal Checks
Catholic Faith Personal Checks - These spiritually inspired personal bank checks will be a welcome addition to any good Christian's checkbook. Adorned by awe-inspiring images of the rosary, the bible, and Jesus on the cross, this four series set will give a gentle every-day reminders to keep faith and of the temporal values of material goods. ...

---