Farm Equipment Checks
Order Farm Equipment personal checks online in a variety of designer styles.
Address labels and covers are also available to match or compliment most of our vehicle-theme check designs.
---
Working The Land Personal Checks
Working The Land Personal Checks - This 4 series set of personal checks features an array of images of life in the farmland of America. Rolling tractors, growing crops, and dusty fields are a great way to keep a snapshot of life on the farm in your checkbook. If the farming life is your kind of life, then these are your kind of personal bank checks! ...

---
Tractors
The tractors personal checks are available along with complementing address labels take you back to the farming days. Check out life down on the farm with the ideally made tractor checks.There are 4 different tractor scenes available to show off tractor scenes from the classic green tractor machines to the age old tractors. Depicting the pulse of the country, tractors made the agricultural scope of the land possible. Celebrate the spirit of the activity by adding the tractor motif in your tractor-inspired personal checks. These checks are utilitarian and serve your business needs at the same time....

---
More Big Green Machines
These big machines of the Midwest are back in these new More Big Green Machines Personal Checks with four new images of these monstrous pieces of machinery....

---
Have A Field Day Personal Checks
Have A Field Day Personal Checks - Rows of freshly plowed dirt, corn sprouting, and a successful harvest at sunset, capture a few of the things that make a farmer love what he does! You will have a field day with these farming personal checks!...

---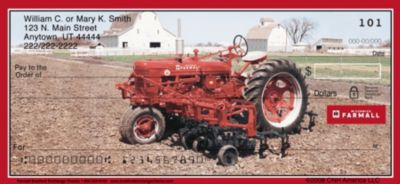 Farmall 4 images
Celebrate a Great American Icon with Farmall Tractor Personal Checks - The Farmall tractor is a time-honored symbol of all the hard work that goes into America's farms. Now, pay tribute to the Farmall's legendary heritage in our Nation's heartland with these Farmall tractor personal checks from Bradford Exchange Checks. Four different farm scene check designs feature classic Farmall tractors, each showcased in an idyllic rural setting and highlighted by the familiar red and white Farmall logo. Wide open fields, pristine barns, tranquil ponds and blue skies provide the perfect backdrop to each tractor's signature red finish and old-fashioned good looks. It's a great thing when every check you write becomes a celebration of American tradition and values! There's no doubt, the Farmall tractor personal checks are as hard-working as they are good-looking, just like the tractors that inspired them. They're available exclusively from Bradford Exchange Checks and are expertly re-created with premium-quality check printing. Plus we've made it easy to order personal bank checks online, so why wait? Order now! Pricing shown is for 2 boxes of Singles....

---
Big Green Machines
...

---