Classic Cars Checks
Order Classic Cars personal checks online in a variety of designer styles.
Address labels and covers are also available to match or compliment most of our vehicle-theme check designs.
---
Vintage Road Trip Memories Personal Checks
Vintage Road Trip Memories Personal Checks - Tale a trip down memory lane and ride in this beautiful Collector's Car each time you open your checkbook and write out a Vintage Road Trip Memories Personal Check!...

---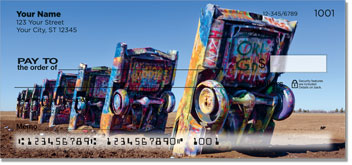 Route 66 Checks
...

---
Old Time Convertables
Feel the wind in your hair with these Old Time Convertibles Personal Checks. With convertibles in reds, whites, and blues you will also experience a feeling of pride in our country as well. The very first cars were actually all convertibles. Cars didn't become covered until later....

---
Old Time Cars
Old Time Cars Personal Checks include some amazing pictures of old automobiles. These cars will inspire a feeling of nostalgia and pride in our history....

---
Dream Machines Personal Checks - 3 images
What's Included Per Box: 5 Pads of Checks 20 Deposit Tickets 1 Transaction Register...

---
Classic Road Trip Personal Checks
The timeless beauty of American automotive classics is captured in four distinct illustrations....

---
Classic Rides
These Classic Rides Personal Checks are sure to please any car buff around. With four rotating images of classical cars, these checks are sure to get your engines going!...

---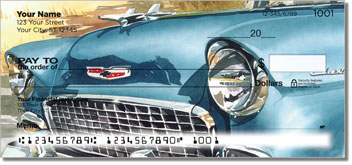 Classic Chrome Checks
...

---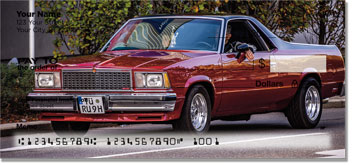 Classic Car Checks
...

---
Chevy SS Personal Checks
Bring the ultimate in high performance to your checks with the legendary Chevrolet SuperSport....

---
Car Light Closeups Personal Checks
Car Light Personal Checks - Auto enthusiast's your checks have arrived. Headlights and tail lights from BMW, Audi, and Cadillac are all represented on these luxurious personal bank checks. Stylish!...

---
'50s Chevy Personal Checks
Sleek lines and cool colors set the tone of these classics. You could even end up pulling into the drive-in to catch a double feature....

---