Santa Claus Checks
Order Santa Claus personal checks online in a variety of designer styles.
Address labels and covers are also available to match or complement most of our Holiday Theme checks.
---
Santa's Slackin' Checks
Santa Checks - This Christmas, spread some hilarious festive cheer with these Slackin Santa Claus personal checks. He may be on the golf range, on the course, or just driving around on the cart but there's one place you won't find him... in the workshop! Let the world know what Santa's really up to this time of year with these funny and cute checks....

---
Santa's on the Way by Lorrie Weber
Buy Santa's on the way personal checks by Lorrie Webber. It is cheap. The print is accepted in stores and markets as well as the financial institutes around the world.You can use the cost effective easier way of interests. You can buy the address labels with them as well. The image is from Lorrie Weber designs and as such it reflects the Christmas and festival feel in an image of a happy Santa riding a plane to make the quick delivery of this year's prices and goodies.The customized checks are accepted at stores and market. They are authenticated checks and as such they are acknowledged from the Association of American Bankers....

---
Santa's Belt
Make your checks stand out with Santa's Belt Personal Checks. These checks feature an image of Santa's belt. As always, these checks are available at our everyday low prices. Don't forget to purchase your matching address labels!...

---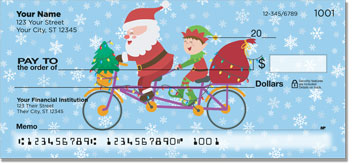 Santa Claus Checks
...

---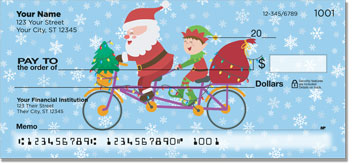 Santa Claus Checks
...

---
Santa Claus
This set of checks has profiles of Santa Clause with a christmas tree behind him. This check is very joley....

---