Halloween Checks
Order Halloween personal checks online in a variety of designer styles.
Address labels and covers are also available to match or complement most of our Holiday Theme checks.
---
Wicked Witch Personal Checks
Wicked Witch Personal Checks - Don't let this full moon or the wicked witch of the west scare you away from taking this check! Write out these wicked checks each time you open your checkbook!...

---
Vampire Bats Spooky Nights Personal Checks
Vampire Bat Personal Checks - Do you love bats and Halloween? These artfully illustrated personal bank checks feature spooky spider webs, full moons, and flying vampire bats that are sure to get your blood curdling! Everyday is Halloween with these in your checkbook....

---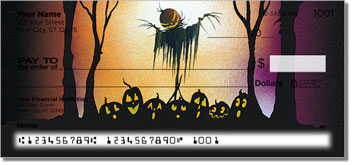 Scary Scarecrow Checks
...

---
Pumpkin Hide and Seek by Lorrie Weber
Pumpkin hide and seek has the image of two pumpkins and a striking naughty cat hiding behind the image of the cheerful pumpkin in the image. The picture is from the series by Lorrie Weber. She is a famous folk artist who is known for charming country-side soft images.If you wish, you can buy pumpkin hide and seek personal checks by Lorrie Weber. They are reasonably cost effective investment for a check and/or an address label. You can buy them to arouse interest of different clients towards your services. You can also add those to celebrate life and Christmas or to use them for your personal identification....

---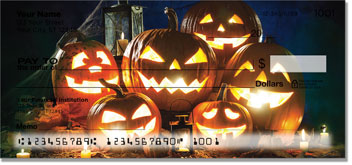 Jack-o-Lantern Checks
...

---
Hauntings Personal Checks
Hauntings Personal Checks - Trick or Treat? These haunting personal check designs celebrate the Autumn as the leaves turn gold and red, fall off the trees, the weather gets cooler and we dress up in costumes. Did you say BOO?!...

---
Haunted Houses
Haunted Houses Personal Checks feature some gloomy and creepy specimens that will make your skin crawl! Literature, films and Halloween have made haunted houses popular. It is interesting to note that some people who have claimed to have haunted homes actually found that their hallucinations of haunting were triggered by carbon monoxide poisoning and the 'hauntings' ceased once the problem was fixed....

---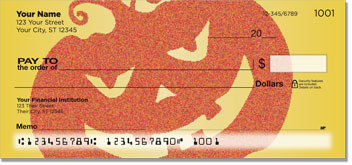 Happy Halloween Checks
...

---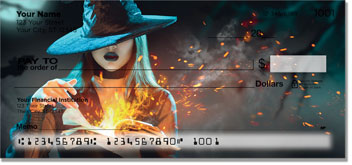 Halloween Witch Checks
...

---
Halloween Treats
Halloween Treats Personal Checks feature photographs of colorful candies that can be consumed during this childhood celebration. While Halloween originated from Celtic & Christian celebrations, the modern holiday is secular in nature. Candy and costume sales skyrocket around this holiday!...

---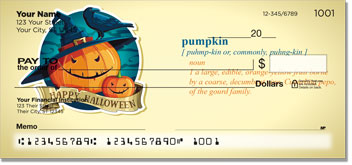 Halloween Thesaurus Checks
...

---
Halloween Silhouettes Personal Checks
Celebrate the most bewitching time of year with these frightfully fun designs....

---
Halloween Mischief by Lorrie Weber
You don't have to wait for October to have some fun because you can enjoy these Halloween Mischief Personal Checks by Lorrie Weber every day. With a somber tan background a large black cat hovers on the left side of the check with a variety of pumpkins in various shapes and sizes accompanying him. If you are into cats or just love the joy of a holiday like this where you can be anything you want to be, you can use these delightful Halloween Mischief Personal Checks all year round. Some people think black cats are lucky so do you dare to try to be different?...

---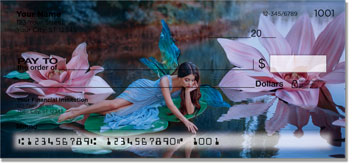 Halloween Hottie Checks
...

---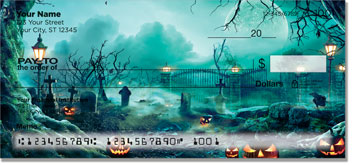 Halloween Graveyard Checks
...

---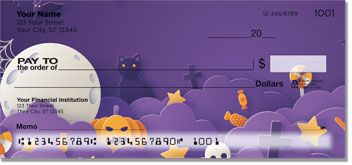 Halloween Checks
...

---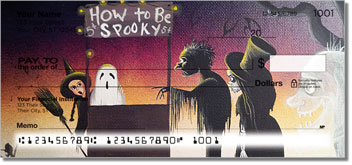 Halloween Art Checks
...

---
Funky Witches Personal Checks
Funky Witches Personal Checks - Have you tried the witches brew? These colorful and alluring checks are the perfect compliment to the Fall season, getting in the Halloween spirit or just remembering the good ol' wicked witch of the West year round. Serve up your own steamy green witches brew with these checks - before they get away on their magical broomstick....

---
Full Moons And Black Cats Personal Checks
Black Cats Personal Checks - Superstitious? Some say to stay away from a black cat crossing your path but these very alluring images just might be the exception. This beautiful black cat is perched in front of a glowing moon with a devious gleam in his eye! We are not sure what he is thinking but we are sure he wants to say MEOW!...

---
Da Bats Personal Checks
Bats Personal Checkd - If you live for Halloween, then these funky bat checks are perfect for you! So colorful, they almost glow in the dark, these checks are sure to scare up some "bat-ee" commits when you pull out your checkbook!...

---