Grandparent Checks
Order Grandparent personal check designs online in a variety of styles.
Return address labels and covers are also available to match or complement most of our Family theme checks.
---
Granny Nanny Pride Personal Checks
Granny Nanny Pride Personal Checks - These charming check designs feature a responsible and experienced Nanny and she does what she does best! Take this Nanny on a walk or in your stroller with these delightful Granny Nanny Pride Personal Checks! Don't forget the diaper bag!...

---
Grandparents by Sweet Intentions
Grandparents is the title of these inspirational checks. Grandparents have survived life`s ups and downs. They show us all the meaning of loving someone forever. These checks are dedicated to our grandparents and yours....

---
Grandmother 2 Bee Personal Checks
Grandmother 2 Bee Personal Checks - Seriously, what is more exciting than becoming a grandmother! This whimsical grandmother 2 bee personal checks are a fun way to clue everyone in that your family is expanding! Have fun with these one of a kind personal checks. Bee a proud Grandma!...

---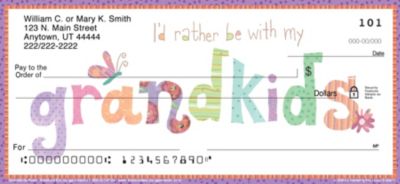 Grandkids Rule!
Celebrate Grandma's Love for Her Grandchildren with These Grandkids Rule! Personal Checks! - Grandmas know that the best kind of kids are grandkids! Celebrate your love for your grandchildren every day with these Grandkids Rule! personal check designs from Bradford Exchange Checks! Four dynamic designs feature different grandma sayings showcased in a colorful palette by artist Lori Siebert, making each of these checks a fun and bright tribute to the best kids in the world. The sassy sayings include, I'd rather be with my grandkids , what happens at grandma's stays at grandma's , if I knew grandkids were so great, I would have had them first and if mom says no, ask grandma. Plus, you'll find these grandmother sayings checks are just as practical as they are delightful. Brought to you exclusively by Bradford Exchange Checks, they're expertly re-created with premium-quality check printing. Don't miss this terrific chance to celebrate your grandkids - get your Grandkids Rule! checks as soon as possible! Order now! Pricing shown is for 2 boxes of Singles....

---