Chicago Blackhawks Checks
Order Chicago Blackhawks team logo personal checks online in a variety of designer styles. Show your fanaticism with every check you write!
Address labels and covers are also available to match or complement most of our team fan check designs.
---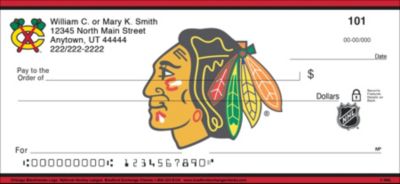 Chicago Blackhawks Logo NHL Personal Checks
Let's go Blackhawks! Showcase your pride for the Chicago Blackhawks with these Blackhawks logo checks from Bradford Exchange ChecksŪ! Two dynamic designs feature full-color artwork of either the Blackhawks Jersey logo or the Chicago Blackhawks Tomahawk logo with a background of "Chicago Blackhawks" text repeated in red. Accented strips of black and red complete each look....

---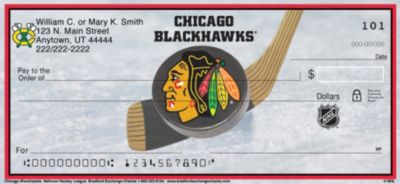 Chicago Blackhawks NHL
NHL-Licensed Chicago Blackhawks Checks Celebrate Your Hawks - Fans of the Chicago Blackhawks know how to celebrate their team in winning style! Show pride in your favorite hockey team with these Chicago Blackhawks personal checks from Bradford Exchange Checks! The excitement of the game is captured in four dynamic designs featuring a Blackhawks puck and a hockey stick or realistic silhouettes of players in action. Adding to the exciting presentation, the Blackhawks logo is proudly displayed by your personal information and in the center of each check along with the NHL logo over the signature line!You'll find these hockey fan check designs are just as practical as they are proud. Brought to you by Bradford Exchange Checks, they're expertly re-created with premium-quality check printing. Don't wait to score major points as a loyal hockey fan - get your Chicago Blackhawks checks as soon as possible! Order now! Pricing shown is for 2 boxes of Singles....

---