Moroccan Checks
Order Moroccan personal checks online in a variety of designer styles; celebrate your Moroccan heritage with every check you write!
---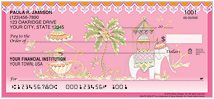 Haute Girls Moroccan Checks
Bring your checkbook to life with this Haute Girls Moroccan check design from Dena Designs. Bold colors and intricately detailed patterns and motifs give these checks the perfect mix of modern and Middle Eastern flair. The matching labels and checkbook cover are also available. Order your Haute Girls Moroccan checks today! Dena Designs Inc. All rights reserved. HAUTE GIRLS is a trademark of Dena Designs Inc. Used under license. Product Description Singles Duplicates Checks per pad 25 20 Pads per box 5 5 Checks per box 125 100 What's Included FREE 20 Deposit Tickets and1 Transaction Register...

---