Motivation Checkbook Covers
Order Motivation design and other inspirational-themed checkbook covers and check wallets online in a variety of stylish designs.
---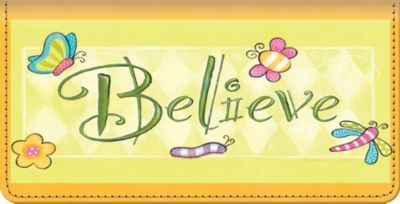 Hopes and Dreams Checkbook Cover
Put Your Unique Stamp on the World with this Colorful Inspirational Leather Checkbook Cover! - Give yourself a pep talk every time you pull out this delightful Hopes and Dreams colorful inspirational leather checkbook cover! It's custom designed to match our exclusive Hopes and Dreams designer personal checks, and features an exuberant design by acclaimed artist Stephanie Marrott. You'll love the cheerful yellow geometric background and the flower, friendly bug, and whimsical butterflies sprinkled all about, but it's the word Believe in big playful green letters that will make you smile on a daily basis! Handcrafted of genuine, full-grain leather, this Hopes and Dreams Stephanie Marrott art checkbook cover includes such high quality features as premium nylon thread stitching and fabric lining. Other convenient features of this genuine leather checkbook cover include a clear duplicate check divider, a slip-in personal check pocket, and a second pocket to hold cash or receipts. Now is the perfect time to order checkbook covers online - you never know what wondrous things your Hopes and Dreams genuine leather checkbook cover will help you discover! Available only from Bradford Exchange Checks(R), so order now!...

---
Fairy Inspirations Checkbook Cover
Genuine Leather Fairy Inspirations Checkbook Cover Lets Your Imagination Take Flight - What would you do if you encountered a fairy in repose? Now, enjoy the company of a winged friend wherever you go with this genuine leather fairy checkbook cover. Custom designed to coordinate with our Fairy Inspirations personal check designs, this enchanting checkbook cover design features a full-color portrait of a fairy delicately resting on a leaf by acclaimed fantasy artist Amy Brown. Imagine in burgundy text pops against the neutral background and above the sweeping accent strip. A line drawing of a fairy on the background adds subtle dimension.This exclusive Amy Brown checkbook cover is handcrafted of genuine, full-grain leather. High-quality features include premium nylon thread stitching, fabric lining, a clear duplicate check divider, slip-in personal check pocket, and a second pocket to hold cash or receipts.Don't wait to celebrate the beautiful mysteries of the forest - get your fairy checkbook cover from Bradford Exchange Checks(R)! Order now!...

---