Inspirational Design Checkbook Covers
Order inspirational-themed checkbook covers and check wallets online in a variety of stylish designs.
Choose from category list at left to view all styles available.
Featured Styles
Footprints in the Sand Leather Checkbook Cover
Custom designed to coordinate with your Footprints personal check designs, this meaningful checkbook cover features a striking photograph of a beach along with the words, (R)Footprints in the Sand and the famous line from the poem, (R)When you saw only one set of footprints, it was then that I carried you. High-quality features include premium nylon thread stitching, fabric lining, a clear duplicate check divider, slip-in personal check pocket, and a second pocket to hold cash or receipts.

---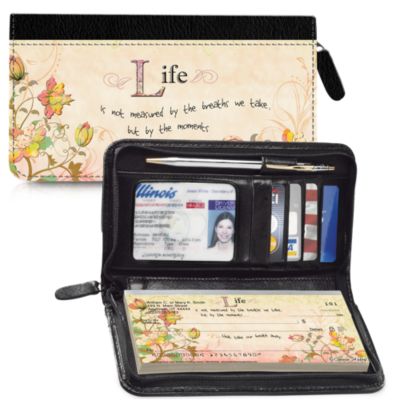 Live, Laugh, Love, Learn Zippered Checkbook Wallet
This beautifully organized Connie Haley floral art cover for your checks also includes a pen loop, cash pocket, and a slip-in personal check pocket with clear carbon checkbook divider, and pockets for up to four credit cards plus a window pocket for your driver's license.. Zips all around the sides to secure your valuable personal checks, ID, cash and credit cards. With silk-like moire lining, you'll truly enjoy the luxury and convenience of this stylish checkbook cover! Order now....

---